At the same time that he was searching out interesting architecture to draw, my father began his caricature sketches of Toronto's people, partly as notations for figures he could later add to his pictures, and partly as a warm-up for his more serious work, but mostly because he found gesture irresistible. At last he had found a way to come close to them without their even realizing he was there.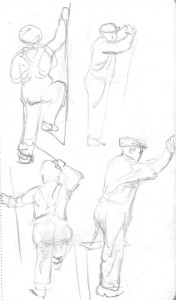 Furtively sheltering his small, homemade notebook in the palm of his hand, in the forties he began a candid, rollicking Tristam Shandy-type of sketching everywhere he went. One minute he would be chaffing with the wreckers, or delving into their equipment, the next he would whip out the sketchpad. (He showed me how he rested it on the inside of his wrist and flattened the angle of his favorite pencil so that he could work unnoticed.)
During morning coffee breaks in Simpsons cafeteria, he caught secretaries gossiping. In Kensington Park he drew tramps arguing, or a portly, puff-cheeked tuba player marching in a small parade. In Grange Park (the hub of his territory) he captured clusters of the down-and-out gathered around a picnic table gesticulating over cards, or children gleefully splashing each other at a drinking fountain. On the train ride home he penciled in an exhausted stockbroker sprawled yawning across his seat. In this way, as his pencil groped for their truth as a blind man's hands might read a face, he achieved an extraordinary intimacy.