One way in which my parents reached out to people was by designing their own Christmas cards. The first year that my mother had been back at art school after her marriage, she took a commercial art course, which included illustration. O.C.A. students then were encouraged
to integrate art into their daily lives. At Christmas all of them were assigned a project making a linocut Christmas card. My mother was pleased to find that the other students were impressed by her effort, and thus began a sequence of Christmas cards which
continued all my parents' lives. At first, the cards were hers. But once she had babies to care for, she let my father take over the job. He bought a hand-turned printing press at one of the second-hand stores he liked to frequent near the St. Lawrence Market in Toronto, and he
began to take production of the annual card seriously. More than just a greeting, it was intended as a message that both artists were continuingly faithful to their art.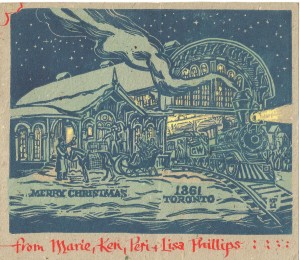 Every year, my father followed a complex process. This began with copious sketches and consultation with my mother. When they were satisfied with the design, he carefully transferred the design (in reverse) onto a linoleum block, which he then cut with gouges. Because he had so little time to work, often it was perilously close to Christmas by the time my father made his way to the chilly cellar where he kept his press. He mixed the glossy thick ink to the right consistency and rolled it onto the carved lino block. With great care, he placed the heavy paper on the block and set them under the press. For each of the hundred cards, he had to hand-cranked the press to imprint the design and then release it, being careful not to shift the paper before the image was set. Inevitably, in this uncertain process, there were failures which demanded that my father work even longer into the night. Even then he wasn't finished. Frequently he was tempted to touch up the cards individually with white or vermilion paint.
Gathered together, these special Christmas greeting cards tell the story of an artist's shifting focus, and his joyful sense of place. There is a woodcut of my parents' newly-built Mississauga home on a snowy night, and then a picture of me as a child, tilting upwards
on a swing, followed by one showing two small daughters admiring the stars through the ivy‑wreathed studio window. Next come the Toronto cards, spirited reproductions of the fascinating buildings he loved to sketch in his noon hours–the old Arcade, Loretto Abbey, a Christmassy scene of Kensington Market piled high with spruces, and even a depiction of an old post office, designed to appear like a cancelled postage stamp. Later, about the time that my parents started to travel abroad, commercial reproduction had become sufficiently accessible that my father was able to give up the time-consuming lino cuts and switch to professional reproductions of pen and ink sketches.
These later cards told of their travels, adventures which earlier would have been beyond
their wildest dreams. –A page of airily sketched caricatures of band players from Petticoat Lane, the sweeping rooftops and sky of Bellinzona, the graceful interior of Ste Chapelle du Palais, each card was a small gift of art for the recipients. And finally there were designs which told of their move to a handsome limestone house in eastern Ontario where they could be near their daughters and their families.